Sensory Labs understands cameras, frame grabbers, and lenses. We can help you match the components to your requirements.
Featured Camera Manufacturers

With a focus on customer benefits, Basler develops components for computer vision applications that make life easier, processes smoother and systems more efficient – whether these are for factory automation, medicine, transport, traffic and logistics or the retail market.

Imperx manufactures high performance cameras for industrial and military applications. Designed to perform to the highest standards in harsh environments, the extended operating temperature is -40˚C to +85˚C with a MTBF > 660,000 hours @ 40˚C.
Featured Lens Manufacturers
Sensory Labs supplies quality optics for all types of industrial cameras, lens mounts, and optical formats. Whether you need a F-mount to cover a 43.3mm image circle, or a tiny S-mount lens for a board-level camera, we'll deliver the right lens. We offer fixed focal lengths, vari-focals, zooms, and lenses with manual or motorized focus, iris or zoom. Focal lengths range from 1.3mm on up to the longest telephotos.

Basler lenses offer excellent value with one of the highest performance-to-price ratios. These C-mount lenses cover image circles up to 1.1" and can resolve pixels smaller than 3 um.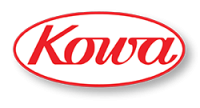 Kowa designs C-mount lenses to cover a broad range of focal lengths. In particular, their wide-angle, short focal length lenses are unmatched for low distortion and wide field of view.

Over decades, Fuji lenses have proven themselves to be sharp and reliable in factory automation environments. Consistent image quality and rugged durability are hallmarks of their performance.

Crisp resolution, brilliant contrast and color, rugged design, and precise manufacturing—Schneider lenses are legendary. All lenses can be ruggedized. Schneider covers the range of sensor sizes and focal lengths.